Flight 542N
Temperature 25° F
Balloon..............................76
Burner assembly......................14
Seat, cables and instruments.........16
Left fuel tank.......................60
Right fuel tank......................61
Pilot (Yost).........................190
Parachute............................18
Ballast..............................30
Gross weight.....465 lbs.
A four hundred feet per minute rate of rise (average) was experienced until reaching the 7,000 foot level. The pilot then began a gradual reduction of the burner heat output in order to attain a level floating condition. This was accomplished by reducing the fuel flow through the needle. (vernier) control valve. This valve required 22 complete turns of the control handle from off to full open position.
A somewhat level floating altitude was established for twenty minutes during which time the needle control valve required only periodic minor adjustments.
At 0912 MST the burning rate was increased in order to climb to a higher altitude. An average rate of ascent of 300 feet per minute was maintained until reaching the 9,000 foot (MSL) level. Here the pilot reduced the heat (fuel flow to burner) so as to again attain level flight. This adjustment was inadvertently excessive resulting in inadequate heat for buoyancy.
---------------------------29---------------------------



A rapid descent (600 feet per minute) ensued and the pilot applied full heat in order to initiate a recovery. After losing 1,000 feet of altitude the descent was halted and a rapid rate of rise experienced. The heat again was reduced excessively and another altitude oscillation introduced. These uncontrolled maneuvers lasted for approximately fifteen minutes although diminishing in severity. After regaining level flight control the heat was slightly reduced in order to establish a slow rate of descent. At 1030, after being airborne for one hour and fifty minutes and traversing a distance of 39 miles, a normal landing was accomplished.
Thirty pounds of ballast (see weight schedule) was carried on this flight in order to conduct a deceleration experiment during the landing maneuver. At an altitude 100 feet above the terrain, while descending at 150 feet per minute, the ballast was jettisoned. No appreciable retardation in descent velocity could be detected. This was expected since the ballast dropped was a very small percentage of the overall system weight.
An analysis of the fuel consumed during the flight yielded the following information:
Fuel on board at take off............19.5 gallons (83 Lbs.)
Fuel on board at landing.............5.4 gallons (23 Ibs.)
Total fuel consumed..................14.1 gallons (60 Ibs.)
---------------------------30---------------------------



The average fuel burned per hour was 7.6 gallons (32.3 pounds) which exceeded the estimated requirement substantially. This was attributed to the oscillating flight profile which required periodic maximum burner output for corrective measures.
As a whole, the flight mission was extremely successful and informative. It had been demonstrated that a rapid inflation could be executed, a prolonged flight attained and a normal landing accomplished.
The attempt to control the climb, descent and level float characteristics of the balloon was only partially successful. This was primarily due to the design of the fuel control valving system. As a corrective measure, a quick operating (from off to full open valve was connected in parallel with the existing needle control valve. The pilot could utilize the quick operating valve to render the burner output to a maximum without disturbing the adjustment of the needle valve.
The next (third) free flight was flown from Joe Foss Field at Sioux Falls, South Dakota on 8 December 1960. Two areas of interest were to be investigated on this experiment. These were:
1. To determine if the revised fuel control system would aid the pilot in maintaining a more level flight profile.
2. The launching to be accomplished during period of light
---------------------------31---------------------------



surface winds (approximately 10 mph) in order to observe the ventilation heat losses during inflation.
Although the balloon envelope experienced a considerable amount of buffeting as it was being filled, the launching was accomplished routinely. The weight schedule for this event was as follows:
Flight 707-N. Air temperature +5° F. Clear sky. Wind NNE 8 mph.
Balloon..............................76
Burner assembly and controls.........14
Seat and instrumentation.............16
Left tank and fuel...................58
Right tank and fuel..................59
Pilot (Yost).........................190
Parachute............................
18
_
Gross weight.....446
A 400 feet per minute rate of rise was established and maintained until reaching the planned cruising altitude of 4,000 feet. The controls were then adjusted for level flight which was held constant for a one hour period. Next, a reduction in heat output was introduced and a gradual descent begun. The flight was again leveled off at an altitude which was approximately 100 feet above the terrain and held constant until a suitable landing area was selected. The landing was accomplished without incident one hour and fifty minutes after launching.
This flight served the purpose of providing additional launching experience and verified the burner control modification as being
---------------------------32---------------------------



beneficial for maintaining a more positive flight control.
The experiments conducted heretofore were performed primarily to provide procedure information and performance data. It was now necessary to acquire knowledge relative to the safety aspects of the system in the event of a flight burner malfunction. Since the descent velocity of the balloon without heat was unknown, it was decided to conduct an unmanned flight.
The complete balloon assembly utilized throughout the program was prepared for this test.
A radio transmitter was installed for the purpose of telemetering pressure altitude throughout the flight profile. In order to simulate a normal flight, canvas bags containing steel shot for added weight were attached to the gondola seat.
The operations plan called for a twenty-five minute ascension with the burner operating and then a descent without heat. The balloon (Flight 720-ru3 was launched on 30 January 1961 with a gross system weight of 457 pounds (see Figure 8).
The balloon rose to the 7,000 foot level at which time the nine pounds of fuel was expended. The subsequent cooling and loss of lift introduced a descent rate which did not exceed 1,000 feet per minute at any time.
---------------------------33---------------------------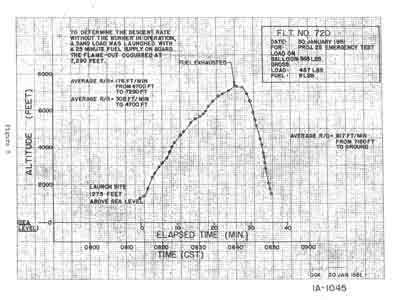 Figure 8: Profile of unmanned flight to test flameout at altitude (click image to enlarge)




---------------------------34---------------------------




Visual observations of the balloon during the descent portion of the flight indicated that the envelope remained full and taut at all times.

Since the descent rate from this test under fully loaded conditions was still appreciably less than a man descending by parachute, an added feature of safety was discovered.

The balloon envelope suffered extensive damage during the landing. Several vertical tears which extended from the base to the apex were acquired due to the rapid change in shape of the entrapped air mass as the ground impact occurred.

A thorough examination of the balloon envelope revealed that additional damage had accrued during the overall program. The glass fabric near the base of the balloon was perforated from handling and a delamination between the Mylar film and nylon fabric was evident in numerous areas. A decision to design and manufacture a completely new balloon system was reached.

The new balloon system (ONR X 38) was completed in mid March 1961 and (Figures 9 and 10) incorporated the following modifications.

1. The envelope shape was identical to the previous balloon although slightly smaller in size. The diameter was reduced from 40 feet to 38 feet which in turn reduced the volume from 30,000 to 28,500 cubic feet.

---------------------------35---------------------------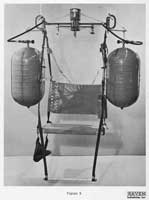 Figure 9: Gondola of ONR X 38, completed
in March 1961 (click image to enlarge)



---------------------------36---------------------------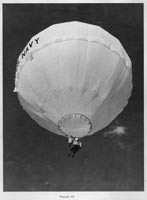 Figure 10: ONR X 38 in flight. Note "drag skirt" near equator, which
added the vertical drag of an 18' parachute (click image to enlarge)




---------------------------37---------------------------




2. A drag skirt was attached to the perimeter of the envelope at a point three feet below the equator. This device would induce drag (Figure 10) equivalent to an eighteen foot diameter parachute during a normal or "flame out" descent.

3. The glass fabric at the lower portion of the balloon was eliminated (Figure 10) and the gondola attached to the envelope by means of 1/8 inch diameter aircraft cable.

4. A new lightweight burner and seat assembly was constructed (Figure 9) which provided more comfort and placed the flight controls within easy reach of the pilot.

A test flight of two hours and twenty minutes was conducted at Sioux Falls, South Dakota on 21 March 1961. As a result of the findings from this experiment, the following equipment modifications were required:

1. The lower six feet of fabric in the balloon had been attached in such a manner that stress concentrations were introduced into the envelope (Figure 10). This section was subsequently removed and reinstalled correctly.

2. At various times during flight, and especially when climbing or descending, horizontal air movement was experienced. Although this breeze was not severe, it still had enough velocity to bend the burner flame and direct it toward the envelope fabric. As a precautionary measure, a conical

---------------------------38---------------------------




skirt, having a base opening diameter of six feet, was attached to the balloon envelope (figure 11).

3. The new burner functioned normally during the portions of the test when level flight or climbing altitudes were assumed. When the heat output was reduced to introduce a balloon descent the fire would extinguish itself. This required the pilot to manually relight the fire a total of twelve times during the flight.

A ground test of the equipment indicated that three changes were needed; (a) the discharge nozzle orifice was oversize and a correction was made, (b) an automatic pressure regulator valve was installed in the fuel line so as to provide a constant fuel pressure to the burner, (c) the fuel vaporization chamber surrounding the burner barrel had split open due to uneven expansion. A new type of vaporization chamber consisting of several coils of stainless steel tubing was fabricated. This modified heat generating system was subjected to three days of ground testing under all ranges of throttle settings.

The balloon was reflown on 3 April 1961 for two hours and ten minutes during which time all of the components functioned properly.

Twenty-six ascensions were made during the period beginning 3 April 1961 and ending 19 October 1961. The average time aloft on each flight was two hours and ten minutes.

---------------------------39---------------------------




The two balloons had flown a total of thirty-two free flights and numerous captive tests. Sixty-five hours and twenty-five minutes of flight time had been logged during the development and flight test program.

---------------------------40---------------------------




IV. CONCLUSIONS

At the completion of this program in October 1961, all of the basic requirements had been met. A low-weight manned flight system capable of safely carrying one man for three hours, at altitudes up to 10,000 feet had been repeatedly flown.

Inflations and launchings in winds of more than 10 mph and temperatures as low as +50~ had been successfully accomplished. Operations at altitudes of 4500 ft. MSL had been demonstrated. Ground support equipment had been developed so that inflation, under light wind conditions, could be carried out in less than ten minutes. Controls, burners and instrumentation adequate to operate the system had been developed.

As a result of the work done under this contract, the feasibility of using hot air balloons for sustained flight was demonstrated. By the application of modern materials, design techniques and instrumentation, an aerostat which had been known for more than 175 years was resurrected and shown to have substantial value in modern research and operations. The limits of duration and lifting capacity appear to far exceed that developed under this contract - the low cost, simplicity of operation, and

---------------------------41---------------------------




logistic advantage which hot air balloons provide, when compared with light-gas balloons, are most impressive. Within the altitude limits where hot air balloons may be used, these modern Montgolfier systems may become an important tool for atmospheric research and low-level lifting and transport tasks.

---------------------------42---------------------------




Figure 11: ONR X 38 in finished form, with wind-deflecting skirt
and redistributed envelope stresses (click image to enlarge)



--------------------------------------------------------