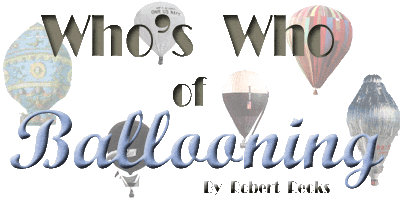 -I-


ICHOIYOSHI, Saburo JAPAN (1945- (HB/GB)
See APPENDIX-BC/BH/BI/BJ/BN/BO/BW. Sport balloonist.
b: 28 Jul.1945, Tokyo;
e: Univ.of Tokyo, BS-Physics.
p: Owner of "Aeronauts Inc" trading Company.
f: First B-Flight July 1969 solo; Self-taught in gas balloon from Chiyodamura, Japan (Balloon was a 1945 war era paper balloon); FAA B-license 27 Mar.1978 #2273329. Also holder of LTA-Balloon licenses from Japan, Germany, and England (HB, GB, and Hot-Air Airship Pilot, and Balloon Instructor); More than 405 B-Hours, including 64 in Gas.
l: 1975, Participant in World Hot-Air B-Championships; 1978, Established Japanese altitude record of 8300m in AX-8; 1979, Participant in World Hot-Air B-Championships; 1979, Participant in G-Bennett B-Races; 1979, Participant in World Gas B-Championships; 1983, Participant in G-Bennett B-Races.
m: BFA; BBAC; Augsburg Free-Balloon Club; NTLAS; Nipon Kikyu Remme; Many other World LTA Associations; FAI-CIA Ballooning Committee 1976-9?, VP-1995.
h: Montgolfier Diploma-1993. ***Epic flight 12 Oct.1976 (solo) over Mt.Fuji. ***Epic flight 1 Sep.1995 (w/Masakazu Oiwa) from Western Australia. Established FAI-World Duration record of 41:29 in a Cameron X-210, for AX-10 to 14 classes.
r: Bio-Data form Aug.83; Many personal interviews; BL-.

ICKLING, Elizabeth USA (1880?1940) (GB/SB)
See APPENDIX-L/S. Professional balloonist. (bio-data unknown)
Nickname "Lizz; Cousin of C.Wise.

IDA, Donald USA (1933-1983) K (GB/HB)
See APPENDIX-B/BJ/BL/BN/BY. Sport balloonist.
b: 23 Oct.1933, Denver, CO;
d: 26 Jun.1983, Germany. Japanese ancestry; Resident of Longmont, CO.
e: BA-Colorado State Univ., Horticulture.
p: Tree Nursery Owner.
f: First B-Flight Spring 1976; Made many flights Worldwide; More than 500 B-Hours (15 Gas flights of 150 hours) by 1983.
l: 1981&82, Partic. in 3-TransWorld flight attempts (w/ANDERSON); Considered best mountain pilot in the State of Colorado; Attended 15-20 B-Events per year; Avoided serious competition.
m: BFA; Member of "Rocky Mountain Balloon Club" of Denver.
h: ANDERSON/IDA Award given annually in his honor. ***Epic Flight 26 Jun.1983 (w/M.ANDERSON) from "Place de la Concorde" of Paris, in "AMERICA-III." Flight ended in a premature, impact landing, when the basket separated from the envelope.
r: BM-multi issues; Tim Cole, Chauncey DUNN.

ILARI, Eraldo ITALY (1890?1950) (GB)
See APPENDIX-AH/AV/CH. Military & Sport Balloonist. (bio-data unknown)
s: Officer in the Italian Army Aerostiers pre-WW1; Airship Test pilot 1917-18; Major in 1924; Outstanding military career.
l: Participated in 1924-27 G-Bennett B-Races.
r: FAI-archives.

INGWERSON, Eric USA (1963-1990) K (HB)
See APPENDIX-B (+3) Professional balloonist.
b: 15 Dec.1963 Columbus, OH;
d: 11 Dec.1990 Columbus, OH (age 31).
e: Ohio State University, BA-Marketing.
p: Business owner; Real estate and Insurance salesman; Semi-Prof. balloonist for REMAX and Bogey-Inn Restaurant.
f: First B-Flight and initial training with H.BUCHER; Holder of B-Licenses in Switzerland and USA (#289561465); Had 552 B-Hours; 46 in Raven S60 N3589J owned by ICCHC Inc.
m: BFA; Central Ohio Balloon Club. ***Epic flight 11 Dec.1990 (w/S.MEEKER, D.SHIREY, and K.Nemes) from a high-school field near downtown Columbus, OH, in "Bogie-Inn." After an uneventful inflation in light winds, the balloon encountered winds aloft of 20-25 mph while trying to out-climb a 1100' WBNS TV-tower. Unfortunately, the balloon envelope snagged a lightning rod near the top, and all four aeronauts died of impact injuries. NOTE: Eric was the PIC. Scott Meeker and Doug Shirey were also FAA licensed Commercial B-Pilots with considerable experience, but Eric had the most experience. Katherine Nemes was a Student Pilot receiving instruction from Eric and Scott.
a: Family still residents of Columbus area 1991.
r: AP-12 Dec.1990; NTSB-report; C.Franz, D.O'Brien, T.Hamilton archives.

IRVIN, Leslie L. USA (1875-1966) (SM/GB)
See APPENDIX-L/AR. Aeronaut Extraordinaire.
b: 10 Sep.1895, Los Angeles, CA.
d: 9 Oct.1966 Brentwood CA (age 71).
p: Professional balloonist and parachutist, 1918-40 era; Became World renowned as a parachute designer & fabricator; Founded company that makes parachutes and still bears his name.
f: First balloon flight with John MURRAY; First balloon jump 1909 in Los Angeles, CA; Made more than 200 balloon jumps in his lifetime.
l: First Airplane Jump 1918; Made the FIRST premeditated free-fall 28 Apr.1919 (from airplane) in the history of the sport.
m: Caterpillar Club, Founder and perpetuator; Membership is limited to persons whose lives were saved by a parachute (more than 10,000 members Worldwide). NOTE: Personal papers are in the Santa Monica Air Museum Archives.
r: L.A.Times 10 Oct.1966:23p1 (T).

ISHIMOTO, Shinrouku JAPAN (1850?1920) (GB)
p: Officer in Japanese Army, rose to General by 1900.; Imperial Minister of War. ***Epic flight 10 June 1878 from Ichigaya Military Academy (Tokyo). Flight in a hydrogen balloon went to 91 meters (298.7'). The balloon was designed and built by Japanese engineers.

ISELIN, Ernest SWITZERLAND (1917- (GB)
See APPENDIX-BJ/BN/BQ/BW. Sport balloonist.
b: 21 Jul.1917 Basle.
e: Univ.of Basle, Chemical Engineering.
p: Chemist.
s: Transportation Officer in Swiss Army.
f: First B-Flight 1954; Swiss B-License #104 issued 16 May 1955; First Night flight 17 Sep.1955; B-Instructor 7 Aug.1957; Over 1200 B-Hours (280 gas B-Starts) by 1985;
l: 1979, Placed fourth in Modern G-Bennett b-Race; 1973-pres, FIA-CIA delegate.
h: 1979, Classic Balloon Trophy.
m: FIA, Pres.of "Commission d'Aerostation de l'AECS. ***Epic flight 1962 from the Rhone Valley of France. Crossed Mont Blanc at night, and landed safely.
r: Interview Jun.85.

IVY, William USA (1866-1953) (SM/OB/GB)
See APPENDIX-J/L/S/AN. Military & Professional balloonist.
Stage name, Ivy Baldwin.
b: 31 Jul.1866 Houston, TX;
d: 8 Oct.1953 El Dorado Springs, CO (age 87).
p: Acrobat/Trapeze artist for the Thayer-Noyes Circus to 1892; Professional balloonist & parachutist, 1880-1920 era; Worked for T.S.BALDWIN 1883-89; Traveled with him to: Far East, Mexico, & Hawaii in 1889; Worked for Western Fire-works of Denver in later life.
s: Commissioned Sergeant in the U.S. Army Signal Corps, 1892-99; Served as an Observation balloonist at Santiago, Cuba.
f: First B-Flight 1880 from Terre Haute, IN, in a Smoke Balloon (used a wood fire as a heat source); Made 1400 B-Ascents in his lifetime; Last B-Flight 2 Aug.1948 Boulder CO.
l: Owned the only balloon used for U.S. Army training in 1898; First to use a telephone from a balloon. ***Epic flight 8 Nov.1907 (w/2-pax) from Denver. The flight, publicized as a Transamerica attempt, ended on the West side of Pikes Peak. The aeronauts were caught in a series of thunderstorms, and experienced thunder, lightning, hail, and extreme cold during 11 hours aloft.
r: Denver Gazette Times 10 Nov.1907.
r: Quincy Herald-Whig, 14 Aug.1949; 9 Oct.1953; NT-1 Sep.1895/25/6, 10 Oct-1953/17/4.