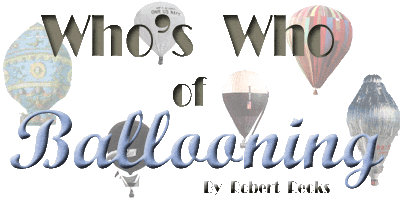 -U-


UCHATIUS, Frantz von AUSTRIA (1820?1870) (HP)
See APPENDIX-C/J. Co-Inventor (w/brother Josef) of Aerial Bombing, June 1849.
s: Officer in the Austrian Army, Field Marshal/Freiher-Artillery.
l: Did scientific experiments with unmanned hot-air balloons over Venice, Italy; Invented & successfully tested a time fuse to drop 30 lb. bombs; Those launched by ship (Vulcano, 12 July 1848) had poor success as many blew back over the fleet; Those launched from the mainland had moderate success (most did hit the city); The project was abandoned because it increased the resolve of the defenders.
r: Modebeck's Taschenbuch; Balloon Bomb Attacks; To Ascend from a Floating Base p31.

ULIVELLI, Arnaldo ITALY (1874-1907) K (OB/GB)
See APPENDIX-B. Military Balloonist.
b: 1874;
d: 2 Jun.1907 Rome.
s: Officer in Italian Aerostiers, Captain in 1907. ***Epic ascent 2 Jun.1907 from Rome. Flight in stormy weather was witnessed by the King and Queen of Italy. Balloon exploded in flames from static electricity, at an observed altitude of 900 meters. Pilot died in the resulting impact and fire.
r: LaJournal (ITA), Liverpool Post (ENG) 3 Jun.1907; The Aeronautical Journal Jul.1907.

UNGE, Eric SWEDEN (1860?1904) (GB)
See APPENDIX-U/AZ. Sport balloonist, 1902-05 era.
Brother of balloonist.
b: 2 Feb.1836 Sjukdom;
d: 23 Apr.1904.
p: Ship Captain, Engineer, Inventor, Mechanic; Designer of a successful aerial torpedo.
f: Received his B-Training in France-1902.
l: Part owner (w/H.HAMILTON) of "Svenske" (escaped from net later the same year; First privately owned balloon (Svenske-II) made by M.MALLET in 1903. ***Epic flight 2 Aug.1902 (w/Sedenborg & 1-pax) from Stockholm. Flight in a FAI class AA-6 balloon established a Swedish distance record of 730km. (in 14:30:00) when it landed in Minjuschi (Novgorod) Russia. Record still stands in 1988. ***Epic flight 19 Sep.1902 (w/Wikander) from Stockholm in "Svenski." Balloon burst into flames at 1000 meters, but parachuted into Lake Malarn.
r: Daily Mail, N.Y.Herald 20 Sep.1902; ACS-files.

UNGER, Edward ("Red") USA (1890?1960) (SM/GB)
See APPENDIX-L. Professional balloonist, 1910-15 era.
Father of stunt pilot Ivan P;
b: Los Angeles, CA;
d: about 1970 Phoenix, AZ.
p: Barnstormer; Movie "Stuntman."
f: Flew both Gas & Smoke balloons.
l: Did parachute descents from gas balloons also.
m: Pacific Aero Club, 1915 (of Los Angeles, CA; see C.DRAKE, L.BROOKS, G.B. HARRISON). ***Epic ascent 4 July 1912 from Bellingham, WA. Balloon full of passengers was tethered to an electric winch at 1000', when all electric power was lost in the city for 6 hours. ***Epic ascent 21 Jun 1915 (w/C.Drake & T.McLean) from Marina Green (San Francisco, CA) in "Jewel City." McLean parachuted from 14,300' (previous record was 6000'), and Drake from 14,300'. Balloon (80,000 cu.ft. coal-gas) eventually reached 29,900'.
a: Venice, CA.
r: San Francisco Chronicle 22 Jun.1915.

UPSON, Ralph Hazlett USA #- 48 (1888-1968) (GB)
See APPENDIX-AH/AI/AR/AX. Sport balloonist. Aeronaut Extraordinaire.
b: 21 Jun.1888 New York, NY;
d: 13 Aug.1968 Burien (Seattle), WA; Died mountain climbing at age 80.
e: Stevens Institute of Technology, ME-1910.
p: LTA-Engineer for Goodyear Aviation Department 1910-21; Credited with developing the Goodyear Kite-Balloon of 1915; Started Wingfoot B-School in 1917; Outstanding B-Instructor; taught many famous aeronauts; Chief Engineer for Metalclad Aircraft Corp. 1921-33; Designer/ Developer of metalclad-airship (TC-4/ZMC-2) in 1929; Designer of railroad trains, Airplanes, Space vehicles; Consulting Engineer Stout Aircraft of Dearborn, MI 1942; Professor at the University of Minnesota.
f: First B-Flight 1906 with F.P.LAHM; Student of F.P.LAHM; Made and flew his own balloon by late 1906; Very active until 1930 era; FAI-ACA B-License #48 issued 1914; Airship pilot-1917; Airplane license #10290 issued 1929; Glider pilot.
l: 1926, Co-Author (w/CHANDLER) of "Free and Captive Balloons"; 1913-21, Won G-Bennett B-Race once in 3-tries; 1913-23, Won U.S.National B-Races three times.
h: ACA-Gold Medal-1914; Outstanding Aero Services Award, Amer.Soc. of Mechanical Engineers-1929; Wright Brothers Medal-1930.
m: ACA; Early Birds; Fellow, Royal Aero Soc.of Great Britain; Soc.of Auto Engineers.
a: 1116 Ferdon Rd.; Ann Arbor, MI.
r: Who's Who in Aviation; NT-15 Aug.1968/17/1 (T).

USUELLI, Celestino ITALY (1870?1920) (GB)
See APPENDIX- (B)/K/AH/CH. Sport balloonist 1900-10 era.
p: Businessman, Wealthy entrepreneur; Airship builder.
f: First B-Flight early 1905; Made 60 B-flights by Feb.1907; Last recorded B-Flight 1912.
l: Builder of "Roma" airships. (see MABRY); Participant in the 1908 G-Bennett B-Race; Holder of several Italian patents on balloons & airships. ***Epic flight 3 Jun.1906 (w/L.Minoletti & Capt.Nazari) from Milan in "Regina Elena." Crossed the Apennines and crashed into the Adriatic Sea. Both passengers drowned on their first flight. **Epic flight 6 Nov.1906 from Milan. Crossed the Mt.Blanc Alps at 22,300'. FIRST crossing of the Alps from South to North
r: N.Y.Herald 5 Jun.1906.

USYSKIN, Il'ya D. RUSSIA (1910-1934) K (HP)
See APPENDIX-B/AP/AQ. Scientific Balloonist.
Name spelled Oussyskine in Russian; Son of a metal worker.
b: 1910, Yaroslaul;
d: 30 Jan.1934 Moscow.
e: Moscow Technical Institute, 1928. Leningrad Polytechnic, 1931.
p: Mathematician, Physicist.
l: Designer/builder of cameras for scientific research. ***Epic flight 30 Jan.1934 (w/FEDOSIENKO & VASENKO) in fatal stratospheric attempt to study Cosmic rays. Reportedly reached 20,600', but they did not survive the descent.