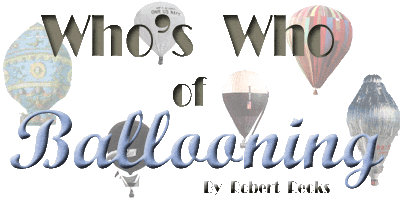 -Y-


YAMADA, Isaburo JAPAN (1860?1920) (GB)
p: Balloon & Airship builder 1897-1910.
f: Witnessed successful flights of BALDWIN & SOENCER in 1890's; Supplied observation balloons to the Japanese Army for the war with Russia; Participated in 14 ascents at Port Arthur siege of 1901-04.
r: 50 Years of Japanese Ballooning.

YARD, Marian USA (1840?1900) (SM/GB)
See APPENDIX-S/L. Professional Balloonist 1865-70 era.
Normally used name: Martin.
p: Protege of REDMOND. ***Epic flight 4 Jul.1868 from Mexico, MO. Balloon caught fire and was launched prematurely. Pilot landed in a grove of trees and was rescued with minor injuries.
r: Frank Leslie's Illustrated, 1 Aug.1868.

YERXA, Thomas Edward USA #-721 (1896-1958) (GB)
See APPENDIX-AR. Military balloonist.
b: 18 Apr.1896 St.Paul, MN.
d: 15 Aug.1978 Santa Monica, CA.
e: Trinity College-1917.
p: Columnist for the "Evening Outlook."
s: Officer in the U.S.Navy 1917-21; Military aviator #1580.
f: Balloon & Airship training at Akron & NAS-Pensacola; FAI-ACA B-License #721 issued 13 Nov.1918.
r: Contact Profiles p409.

YOLTON, John Maloney USA #-970 (1894-1966) (GB)
See APPENDIX-AI/AN/AR. Professional aeronaut.
Nickname: Jack.
b: 14 Apr.1894 Midway, PA.
d: 14 Mar.1966 Houston, TX.
p: Goodyear employee: Test driver of automobiles 1914; Balloon and Airship Pilot 1917-30; Official Observer at the German Zeppelin Factory; Houston hotel proprietor in 1930's; Goodyear 1942, Assembly supervisor of K-Ships; Test pilot of ZPG-ships 1957-64; Mgr. Airship Operations 1964+.
f: Balloon instructor at Wingfoot Lake; FAI-ACA B-License #970 issued 8 Mar. 1924; Airship license 1929, Airship pilot & instructor.
l: 1930, Promoter of the U.S.National B-Races; Team supervisor of balloons at G-Bennett B-Race at Brussels.
r: BF-V30#4p10.

YON, Gabriel L. FRANCE (1835-1894) (OB/GB)
See APPENDIX-U/J. Aeronaut Extraordinaire.
b: 13 May 1835 Paris;
d: 9 Mar.1894 Paris.
p: Professional Balloonist & B-Maker,1870-94 era; Co-founder (w/SURCOUF) of Paris B-Fabrication firm; Learned B-Fabrication during the Prussian siege of 1870; Director of B-Construction at Montmare Station; Sold balloons and related equipment worldwide; Specialized in military observation balloons and portable hydrogen manufacturing apparatus.
f: First flight 1855 in a Hot-Air balloon with H.GIFFARD; First flight in a gas balloon with DURUOF in "Neptune."
l: Reportedly made an ascent in Tiestin, China 8 Apr.1887; Made balloons for most of the aeronauts of his era.
m: l'Union Aerophile de France.
h: Funeral attended by all balloonists of his day.
r: L'Aerophile 1894 p63.

YORKSHIRE, ? ENGLAND (1890?1940) (KB/GB)
See APPENDIX-AL. Military balloonist.
s: Officer in British Army, 1917-19.
f: Received B-Training for the 32nd Balloon Company. ***Epic ascent 1918 over Messines, France. Kite Balloon was hit by ground artillery fire, and envelope started to deflate. Life was saved by HODGES, who used a smooth winch procedure to maintain cable tension on the kiting remnants.

YOST, Paul Edward USA (1919- (GB/HB)
See APPENDIX-BD/BH/BF/BG/BI/BJ/BN/BQ/BR/BS/BT/BY. Aeronaut Extraordinaire
b: 30 June 1919, Bristow, IA.
s: U.S.Army Air Force, 1943-45.
e: Boeing School of Aeronautics, 1939; Univ.of Minnesota, 1950.
p: Design Engineer of Strato-Balloons, General Mills, 1946-56; Project Manager of many epic Strato-Flights, U.S.Govt. 1950-68, including: Skyhook, 1950; Gopher, 1951; Transonde, 53;
Juniper, 1954; Michigan, 1954; I.G.Y., 1956.
Hot-air & gas B-Builder, and pilot, 1947-present; Founder of Raven Industries (w/Pohl & D.Smith), 1956; Founder of Dakota Industries, 1968; Founder with Don Piccard of Skypower Inc., 1975.
f: First B-Flight (GB), 1950; First B-Flight (HB) 10 Oct.1960; FAA B-License; Also airplane pilot; A & P Mechanic (w/Inspection Authorization); FAA Designated B-Pilot Examiner.
l: Holder of more than 20 B-Related patents; Holder of many FAI World Class records; Competitor & Participant in many sport B-Events; Builder of "Double Eagle" balloons (see ABRUZZO, ANDERSON, NEWMAN).
m: BFA-Life member since 1969; LTAS; AOPA; NAA. ***Epic flight 10 Oct.1960 from Bruning, NB. Flew a self-made hot air balloon (30,000 Cf.) using Propane for heat, and Nylon for envelope fabric. ***Epic flight 13 Mar.1963 (w/D.PICCARD) in the first thermal balloon to cross the English Channel (21 miles in 3-hours, 17-minutes). ***Epic flight 5 Oct.1976 from Milbridge (MA) in "Silver Fox." Transatlantic attempt of 2475 miles in 107:37, landed near Azores.
r: Bio-Data & Tel-Con.Spr-83; Aerostat 6 Dec.1976 p231.

YOUENS, Henry J. ENGLAND (1830?1890) (GB)
Father of balloonist John.
p: Professional balloonist, 1859-70 era; First balloonist to ascend from the grounds of the Crystal Palace at Sydenham, 1859.
f: Made more than 200 flights in his lifetime.

YOUNG, Harry F. USA (1890?1950) (SB)
See APPENDIX-L. Professional aeronaut
Stage names "Professor Nemo" & "Capt.Nemo."
p: Smoke balloonist and parachutist in S. California (San Diego area) 1910-13.
l: Free fall airplane parachutist at Ocean Beach 1913-23; Attempted an altitude record from 24.000' for free-fall parachuting on 4 July 1923, but was unsuccessful when the airplane almost crashed.
r: San Diego Flying Days * July 1923.

YOUNG, William C. USA #-180 (1890-1971) (GB)
See APPENDIX-AR. Military balloonist.
b: 14 Feb.1890 Mineral Springs, OH.
d: 8 Jan.1971 Warren, OH
e: Hiram College; University of Virginia, BE-Engineering.
s: Officer (Captain) in the U.S.Army 1917-19.
p: Goodyear employee 1914-33; Balloon & Airship instructor; Assistant Manager of Aeronautical Sales; Editor of AVIATION Magazine; Part owner of Taylorcraft Aviation Co.; Mgr.of Warren Manufacturing.
f: Received B-Training at Wingfoot Lake; FAI-ACA B-License #180 issued 14 Nov.1917.
r: BF-M/A 1971p9.